Dreamr is a unique platform & cryptocurrency that uses the power of blockchain to make dreams come true for its users. This project has already seen over 1000 dreams come true, and it seems that is just the beginning. If you've heard of Dreamr but don't quite understand what it is, you may be surprised to find out just how far they've come in such a short time.
What is Dreamr?
Dreamr describes the concept of a dream as "the quintessential representation of the limitless nature of the human spirit" and its mission is to build technology that makes chasing your dreams feel possible, no matter one's current circumstances. This inspiring project combines social media, cryptocurrency, and real-world philanthropy to help individuals who may not have the financial means to achieve their dreams. The philanthropic efforts produce inspiring content marketing that drives more downloads and active users to the platform.
More specifically, the Dreamr app enables entrepreneurs to extend their reach beyond friends and family to help flesh out & fund their business and creative ideas. The Dreamr ecosystem already has over 90,000 active users and its ecosystem is receiving B2B support from major corporate partners like Hasbro, Shopify, and The YMCA.
Dreamr Mobile App Bridges Social Media and Crowdfunding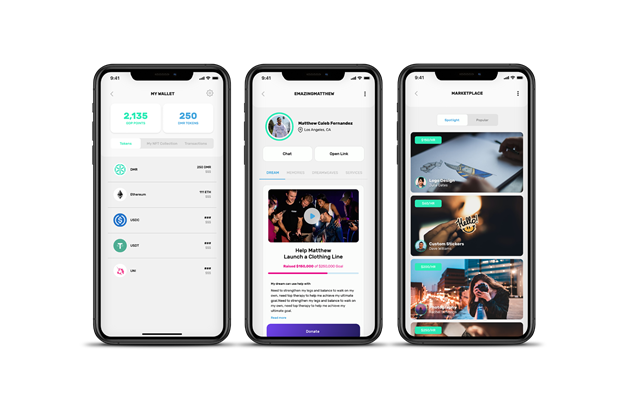 Using the Dreamr mobile app, users can declare their dream in a video and meet like-minded individuals that share their passion. In the future, users can crowdfund each other's dreams and even hire people to help them on a blockchain-based peer-to-peer marketplace. Dreamr already has a tight-knit community that crowdfunds the dreams of others, but the Dreamr mobile app's direct crowdfunding feature could put them on track to be the first blockchain-based project to compete with sites like Kickstarter.
According to Dreamr CEO Chris Adams, "We have exceeded our internal expectations for app downloads by a significant margin. We attribute this to the combination of content marketing generated from the Dream Machine Tour and the recent approval to open markets for the DMR platform token on tier one exchange Bittrex Global."
DMR cryptocurrency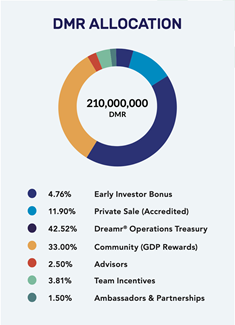 The DMR token is an ERC-20 cryptocurrency that acts as a governance token for the Dreamr project. With DMR, users can vote on improvement proposals submitted by the team or other users. The DMR token is also a major part of the Dreamr app, as users can earn DMR by reaching milestones and unlocking new tiers in the GDP Rewards program and unlock premium features by staking DMR inside the app. Roughly 33% of DMR's total supply is allocated for community distributions on the Dreamr platform — another 42.5% is stored in the Dreamr treasury wallet to fund its operations and incentivize developer participation for DeFi tools built on top of the platform.
Dream Machine Tour
The Dream Machine is an independent 501c3 that oversees Dreamr's charitable initiatives. When the Covid-19 pandemic shut most of the world down, Dreamr executive Charlie "Rocket" Jabaley hopped into a bus and traveled across the country granting wishes. The Dream Machine Tour has already raised over $1,000,000 independently and granted nearly 1,000 dreams, such as awarding Dreamr user @king_kell with $22,000 in DMR cryptocurrency and enabling him to sing on stage at Life is Beautiful Festival in Las Vegas, and then perform the national anthem at a U.S. Men's National Soccer game. If you're interested in supporting the Dream Machine Tour, they have numerous donation opportunities on their website.